There's no question that digital marketing is one of the most critical skillsets an entrepreneur can possess in today's world. 
After all, if you're not reaching your customers online, you're missing out on many potential businesses. But is it worth learning digital marketing?
Digital marketing is a lucrative field, and the demand will only continue to rise as time goes by. Learning digital marketing skills will equip you with a valuable skill that is in high order.
People who have a firm grasp on how advertising works can be sought out for helping various branches of sales with their promotions – from media planners to brand managers – just know that this line of work isn't very scalable.
What about when you can afford to get someone else to do it? Will it still be worth learning digital marketing?
There are so many reasons to learn digital marketing, not the least of which is knowing your company's needs and how to fill them.
You may fill up your PM calendar with other tasks while leaving days for hiring specialists in digital marketing. But you will never be able to satisfy current needs while looking into future potential if you don't understand what you're trying to do. 
Digital marketing is already playing a large part in society's shift towards technological innovation that data-driven consumers rely on, so there isn't any denying that it'll only continue growing exponentially in the coming years ahead.
It's essential to research and not just do what everyone else has been doing for the last year, as chances are it won't work as well as before or worse than other strategies have popped up that will better serve your intended goal. 
To stay ahead of the game, you need to be intimately knowledgeable with trends such as content marketing, search engine optimization (SEO), social media marketing (SMM), etc. If you can't keep on top of industry news, make sure the person working on your digital marketing strategy does!
Twelve strategies to keep in mind:
​​There is no universal "digital marketing expert." Many people are trying to make themselves sound like digital marketing experts often do not have experience with what they're attempting to teach (online marketers using social media who don't know HTML). Learning from these sources is likely a waste of time since there is no authority on digital marketing.
Run an email marketing campaign to get subscribers, potential clients, or customers. This can be done by offering a sense of belonging for a reasonable price to a select group of interested people in your product. For example, you could provide a weekly newsletter with unique content and insider knowledge delivered straight to their inbox every Friday morning.
Analyze trends in search engine results pages (SERPs) for keywords that represent your company's products or services and editorial tone if applicable – this will determine how often these words are searched throughout the year, which may help you address seasonal change for your business better.
Always keep your page optimized for the search engines. In the world of digital marketing, this means making sure everything is SEO-friendly and set up to rank. For example, keywords should be used correctly, titles should include words important for a website's ranking in Google searches, and the content will reflect who you are as a company/brand/person.
Pay attention to social media platforms that have a high stake in content distribution – think Facebook, Twitter, Pinterest etcetera – and decide whether it makes sense to try and establish yourself on those networks before other people do first instead of trying to fit into them after they've been saturated with "marketing noise."
Page Authority is a score given to pages that shows how powerful that page is. It's currently calculated by looking at web links coming into that page and, more important, factors such as content quality, domain authority, etc.
Anchor text is the actual visible text of a hyperlink that appears when you click on a link from one webpage to another. The anchor text creates a "Call To Action" for readers of the linked page who will open up your site or resource with curiosity and anticipation of what you have waiting for them. 
Be multilingual when it comes to languages you know and want to communicate in, or don't be afraid of uploading content where people who speak the language live so you can reach more potential customers.
Focus on building an online presence for your brand, lest it be lost in the myriad of others and forgotten by everyone but industry insiders and spouses of those still working in the field like yourself. 
Create a balance between online and offline marketing efforts to engage with consumers across channels. 
PPC Advertisements – Pay-per-click advertisements can yield immediate conversions if well managed and finely tuned for the right keywords. This is because, at the top of search listings, one will see ads instead of organic results, which has a higher conversion rate due to exposure time being shorter when it's on the screen versus scrolling down pages of content blocks to look for something interesting or relevant.
It's all about ideas, not tricks. There are no tricks in digital marketing – it's all about telling the right story (and using the tools available) to share it with your audience or potential customers. The best digital marketers are great storytellers who understand their customers' experiences and use online media channels to reach them where they are interested in being reached – online!
One great advantage about marketing via digital means is that your market is always online and active, so you need only join them there to reach them with a tailored message at a moment's notice. 
That said, joining this high-speed part of the world can be a challenge for many companies, myself included. The best thing about it is not that it enables us to track what our customers do or how they feel, but that we can use data from customer actions and attitudes as feedback to serve their needs better. 
In other words, what I've learned from my struggle is "don't panic." It'll make more sense when you start seeing results. 
Are Digital Marketing Certification Worth It
If you believe that college doesn't prepare someone for the working world – this might be your answer.
Digital Marketing Certification is an excellent way to prove you know your stuff and your experience with the marketing world.
Seven main reasons many people want to go for a digital marketing certification:
Learning digital marketing skills is inexpensive and straightforward, with a certification or diploma program completed in just a few months. The American Marketing Association reports it's possible to earn an MBA in Digital Marketing online at no cost. They also offer an MS in Digital Marketing degree, which culminates in either a Ph.D. or master's degree. 
The certification provides a sense of security and credibility to the digital marketing world – When applying for jobs, your resume will be more impressive because you'll have not only an educational degree or work experience but also a Digital Marketing Certification.
Put your newly-acquired skills to use immediately upon graduating from a training program at home or abroad – many entrepreneurs find massive success by choosing to work independently instead of signing up for a job with company restrictions. 
On average, those with certifications earn higher salaries than those without them- You could save tens of thousands throughout your career by investing in one level, now overtaking classes as needed.
Networking: By getting your Certificate, you will gain an understanding of digital marketing and establish contact with peers and leaders in the industry – making it much easier to make connections along the way that might lead to sought-after internships or even permanent employment opportunities.
Professional development: Digital marketing is a constantly growing field and can often leave those without formal certification to face steep competition for entry-level jobs. A certificate will give you the competitive edge you need and allow you to enter this field with confidence and knowledge of what it takes to succeed in digital marketing.
Speaking another language other than English, the mother tongue of the marketer, digital marketing skills are beneficial in joining other countries' bilingual jobs or jobs that happen to have an international customer base.
A digital marketing certification can be helpful in a variety of ways. It may help you with your resume, show future employers that you're serious about this industry, and it might also give you access to jobs or internships that wouldn't otherwise be available.
Are Digital Marketing Bootcamps Worth It
The short answer is yes. If you have a strong marketing background and want to "hit the ground running" in a corporate setting, then these boot camps are an excellent option for you. 
The long answer? Marketers typically don't have much time to develop their skills from scratch from the beginning, so having those skills at hand can make your learning curve much less steep as you learn about new digital marketing techniques and avenues of potential employment. 
It's important not only because it makes one's learning curve more manageable but also because it has been shown that people with a greater breadth of job knowledge earn higher wages.
Are Digital Marketing Courses Worth It
Digital marketing courses are worth it because they provide education on the current topics in digital marketing, the psychological reasons for why people make decisions on products/services and what makes them tick, how to use social media platforms for branding, how to design graphics, and campaigns that will attract customer attention, advanced SEO techniques, how to work closely with your company's group of designers (and getting designers inspired by your brand), understanding big data and analytics.
Is Digital Marketing Worth It
We live in a world where we're constantly interrupted through texts, emails, social media notifications, and browser alerts – we've become accustomed to minimizing everything out of convenience, so why not use this reality as one of your best weapons?
Digital marketing is worth it because many different types of digital marketing can help the company grow. Web traffic is always higher for companies that continuously show off their name. 
Search engine optimization helps ensure your website pops up first on Google searches. 
PPC will help get the word out, preceding expensive ads in other magazines or TV commercials. 
Email marketing also provides a means for following up with clients, even after they visit the site once, reminding them why they should come back next time.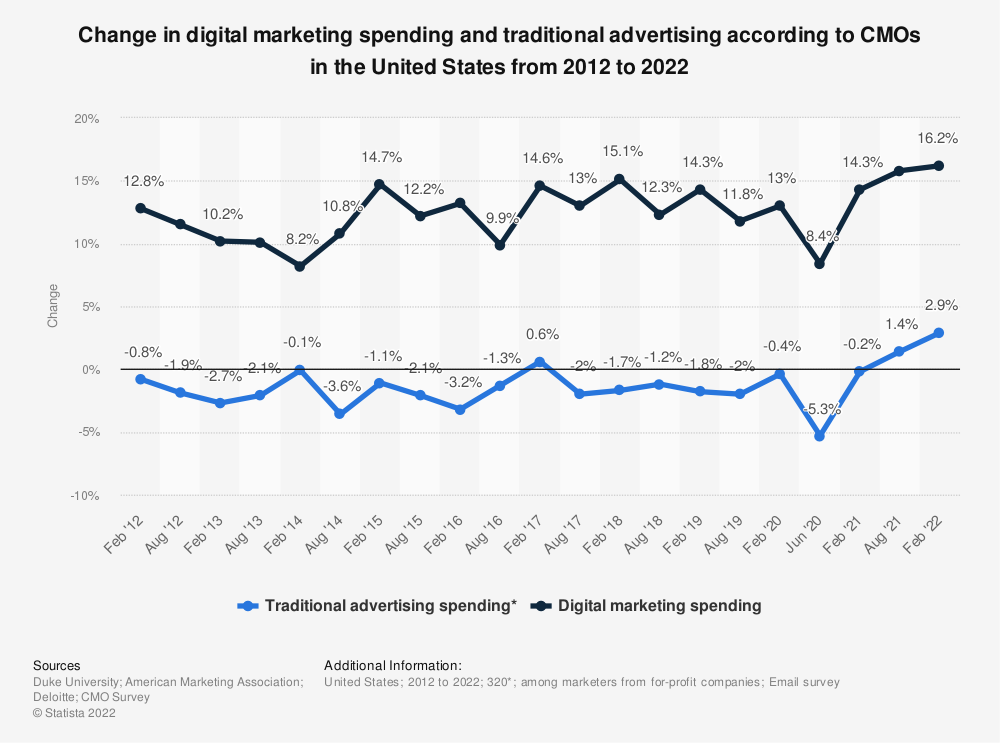 Return on investment from traditional advertising channels such as TV and radio is dwindling, while digital advertising is increasing. But those numbers can be skewed by big spenders with deep pockets.
Businesses that implement an effective digital marketing plan have been shown to grow exponentially faster than those that do not strategically market themselves. This ultimately leads to higher revenues with a lower chance of expenditure or income loss.
Conclusion
Is it worth learning digital marketing? Absolutely! Learning how to market yourself online will help you expand your business and reach more people.
Certification may be the best way to go for up-to-date digital marketing education. Digital Marketing Bootcamps seem like an excellent option for those who don't want to spend time and money on a formal degree but still want exposure to what it takes to succeed as a marketer or business owner. Either way, you'll need some hands-on experience with different strategies that will help you decide if this is the right career choice for your future goals.
Quick Answers To Frequently Asked Questions
Do I need a digital marketing professional for Google ads?
There are a few potential reasons why someone may want to hire a digital marketing professional for Google ads, and it could really make sense in your situation.
An expert like me can help you determine the best keywords, select the right audience and location and bid on them proactively so that you rank higher in searches. Having an expert set up this account for you can save time, money, relieving stress from other responsibilities. It provides another team member ready to use whatever means necessary to get you into that buyer's headspace when they search on Google or any other search engine.
Difference between a digital marketing career and a digital marketing job?
A digital marketing career would involve teaching new ideas, theories, and solutions to people who are eager to learn from you. A digital marketing job involves finding proven methods of increasing revenue, reducing data costs, and extending the company's reach. In a nutshell, a career is about creativity while a job is all about implementation.
Do I need a digital marketing certificate to be a digital marketing specialist?
Becoming a digital marketing specialist is more about having the right skill set than it is about any certifications or degrees.
There are many great courses out there that can teach you both the basics of marketing and how to use digital tools to promote your business. Courses like Udemy's Digital Marketing for Small Businesses can help you learn everything from website design basics for small business personalization, to using Facebook Ads and hashtags to connect with customers online.
Difference between a digital marketing institute and a digital marketing Bootcamp?
A digital marketing institute is a place where people can go to pick up all the skills they need to be working in the fields of social media marketing, SEO, or any other form of digital marketing. Digital Marketing Bootcamps are a fast and effective way to learn these skills at a much faster pace than would usually be possible with an online course.
Digital Marketing Bootcamps keep you accountable for your progress by providing structured learning activities, access to industry experts through real-life workshops and conversations that supplement the curriculum, ongoing coaching from experienced professionals in this field, ongoing networking opportunities that allow you to meet with executives from major brands in-person before even graduating.
Difference between a marketing professional and a digital marketer?
Marketing professionals may have a great marketing plan but without know-how in digital competence, the marketing might not be as effective as it could be.
Digital marketers and marketers must forge a conceptual and practical understanding of how to bring their strategies into an online world. There are various different degrees of this that one can undertake, from looking at analytics data and trends all the way through to data mining, SEO management, and conversion optimization. With best practices in place for both traditional marketing channels like print or TV commercials, as well as new technology such as social media campaigns or video ads on YouTube or Facebook, digital marketing is allowing us to reach people better than ever before.
Is affiliate marketing part of online marketing?
Affiliate marketing is a subset of online marketing. In particular, it's targeted at people who may already have some knowledge about the product or service being marketed.
Affiliate marketing is usually better when you're just starting out and your goal is to be able to afford your overhead costs through affiliate earnings. Also, if there's an opportunity in an industry that you know something about, then this can be a great way to get in on the ground level and eventually go all-in when things start taking off.
Is there a digital marketing skill needed for marketing automation?
Yes! There are tons of skills needed for successful marketing automation. The most important ones are data-driven strategy, advanced understanding of customer interaction channels, and strong analytical skills.
A large slice of the digital marketer's job is "being a detective"–finding out what users want or need to complete their tasks. Understanding customer motivations begins with data analysis, quickly followed by learning each social channel thoroughly so you can figure out how messages will be best received. Throw in strong analytical skills to identify which messages work best for which people at what time, and voilà—you have yourself an automated marketing campaign!
Are web development and digital marketing worth learning?
I am a web developer and digital marketing beginner myself. But from my experience, it does seem worth it.
I've always been a person who values personal development – whether that be my own life or the lives of those around me. And if anyone is ready to take the step towards an interesting, dynamic career where they'll never feel bored or under-challenged then I'd say web development and digital marketing is definitely worth looking into!
Should Google AdWords be part of a digital marketing campaign?
If you are trying to drive organic traffic, the most recommended/dependable search engine is Google.
While other sites do have significant traffic, no other site has reached the level of dominance that Google has – more than 65% of all web searches are executed on Google. Furthermore, 65%-80% of all clicks on these queries come from ads served by AdWords. So yes! Google will always remain a staple in any good digital marketing campaign because it will continue dominating web searches for years to come!
What social media platform is best for inbound marketing?
The platform that is best for inbound marketing would be the one where your consumers spend the most time. It could be Facebook, Twitter, Pinterest, or something else entirely. The only way to find out what platform is best for you and your business is to test them all and figure out which one works.
More than likely every person will need a different strategy based on their industry demographics, geographical location, audience preferences, etc., but just by starting with whichever site people are on first or most then you will have a better idea of what type of content that site's audience wants to see. Asking other companies in your field should also reveal which platforms work the best for their followers as well.
Do I need marketing training for traditional marketing?
Marketing can sound intimidating, but it's really just a matter of understanding marketing theory. Unfortunately, marketing is one field where you don't get to learn on the job, so unless your company provides marketing training, you'll need to enroll in an accredited college or university specializing in marketing.
I recommend getting started with Marketing Fundamentals for College Students by Wendi Schneider because she presents the basics clearly and concisely making them easier for anyone who wants to gain a working knowledge of the fundamentals of modern marketing.
What digital skill do I need for digital media inbound marketing?
That's a great question. The simple answer is that you'll need a basic understanding of HTML, CSS, and JavaScript in order to create digital media for social media campaigns.
For the more complex answer, digital marketing is becoming ever more important as marketers are trying to engage consumers through multiple channels using different mediums. There are many types of content that have unique success rates if used on the right channels – so knowing how to use customized creatives across all channels is imperative at this point, whether for Facebook posts or tweets.
Is mobile marketing part of the digital marketing industry?
It's everybody's responsibility. If you're not marketing on mobile devices, then what are you waiting for? Mobile marketing is just the latest iteration of the tools that have been available to businesses for decades–it's time to adapt. Digital marketing is fast becoming an essential part of your business strategy, and if it isn't or you don't know why it should or can help your business succeed…then take some time to learn more about its capabilities and opportunities before making a decision either way.
Difference between search engine marketing and search advertising?
First, this question needs to be broken down into two questions. Search engine marketing is the process of improving Google visibility in general. You can do that by building really excellent content for your site, you could create a blog around keywords related to your products and publish them on an automatic RSS feed-er like Blogger or WordPress, or by giving out widgets with the URL built in so visitors bookmark it–things like that.
Search advertising is something Google does which involves embedding ads onto keyword searches e.g., if you search "politicians" + political debate title + speaker name…you'll get both news stories and listings of televised debates with links to commercial sites where you can buy tickets straight from their website.
What skills do I need to be a marketing manager for a digital marketing agency?
A marketing manager for an agency needs to be good at identifying what clients are looking for, knowing clients' marketing objectives, having a systematic process for customer relationship management, and liaising with project managers.
The first step is to identify what the client wants. Next, you will need to know their marketing objectives so that you can work towards them. You also have to have a systemized plan of managing customers' relationships with the method being introduced by Ed Croft in his book entitled "How They Sold Themselves into Poverty". The last thing is to share updates on projects with project managers within your organization.
Was this article helpful?