When people think about starting a business, they often think about it as a blank slate. They have an idea, put together a plan, and then execute that plan. 
However, the reality is that every business is built on the foundations laid by previous businesses. This is why statistics on startups are so vital. They provide valuable insights into what works and what doesn't. 
By understanding the successes and failures of past startups, new businesses can avoid making the same mistakes. They can also learn from the achievements of others and replicate those strategies. 
In short, statistics on startups are essential for any new business looking to find its footing in the marketplace.
Starting a new business is always a risky proposition, but there are ways to stack the odds in your favor. One of the most important things you can do is learn from the mistakes of previous businesses. New companies make a few common mistakes, and by being aware of them, you can avoid making them yourself.
One common mistake is failing to research the market adequately. Before starting your business, take the time to understand your target audience and what needs they have that aren't being met by existing businesses. 
Another mistake is underestimating the importance of marketing and advertising. Even if the best product or service doesn't sell itself, you need to let people know about it through effective marketing and advertising.
Email marketing can be a great way to connect with your target audience. In addition, track your customers' interests and understand what sorts of messages they respond to. 
By segmenting your list and tailoring your content, you can ensure that your emails are relevant and engaging for your audience. With a bit of effort, email marketing can be a powerful tool for understanding and connecting with your target audience.
Unicorn Startup Statistics
A startup unicorn is a company that has been valued at over $1 billion. While they are rare, these companies have received much attention in recent years. Given the high-profile nature of unicorns, it's no wonder that new startups are interested in studying them. After all, what could be more inspiring than to dream of one day joining the ranks of these elite businesses?
Fortunately, there is a growing body of research on startup unicorns. This research can provide valuable insights for new startups. For example, studies have shown that most unicorns are founded by experienced entrepreneurs, often in their mid-30s. This data can help new startups understand the importance of experience to achieve success.
Leading Unicorns In The United States By Market Valuation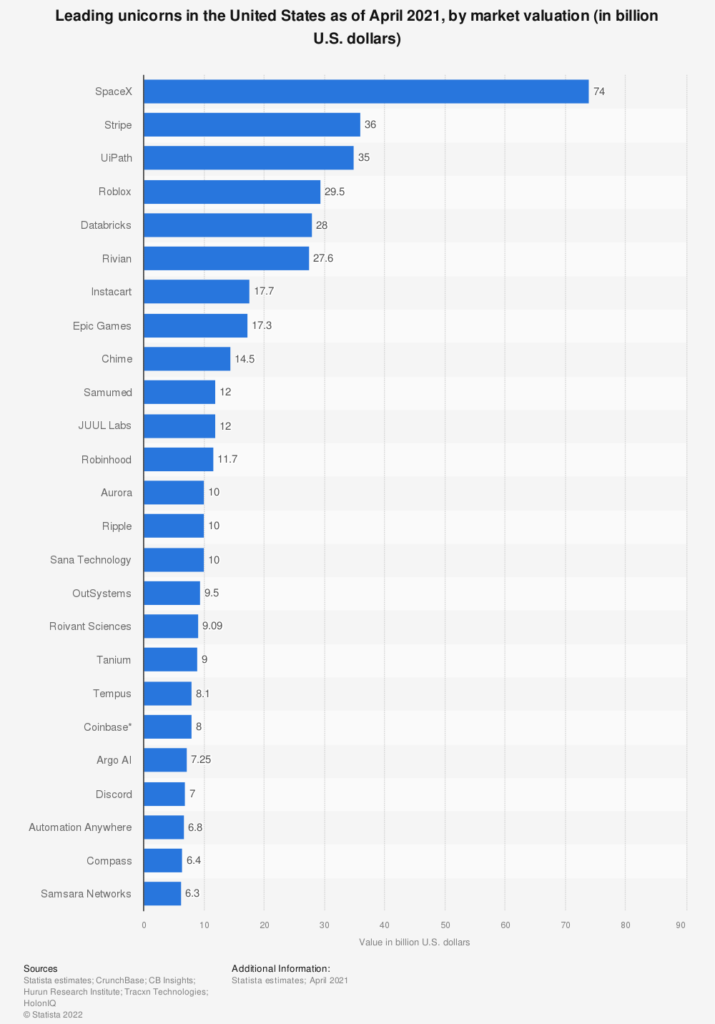 Largest Unicorn Exits
E-commerce And Direct To Consumer Unicorns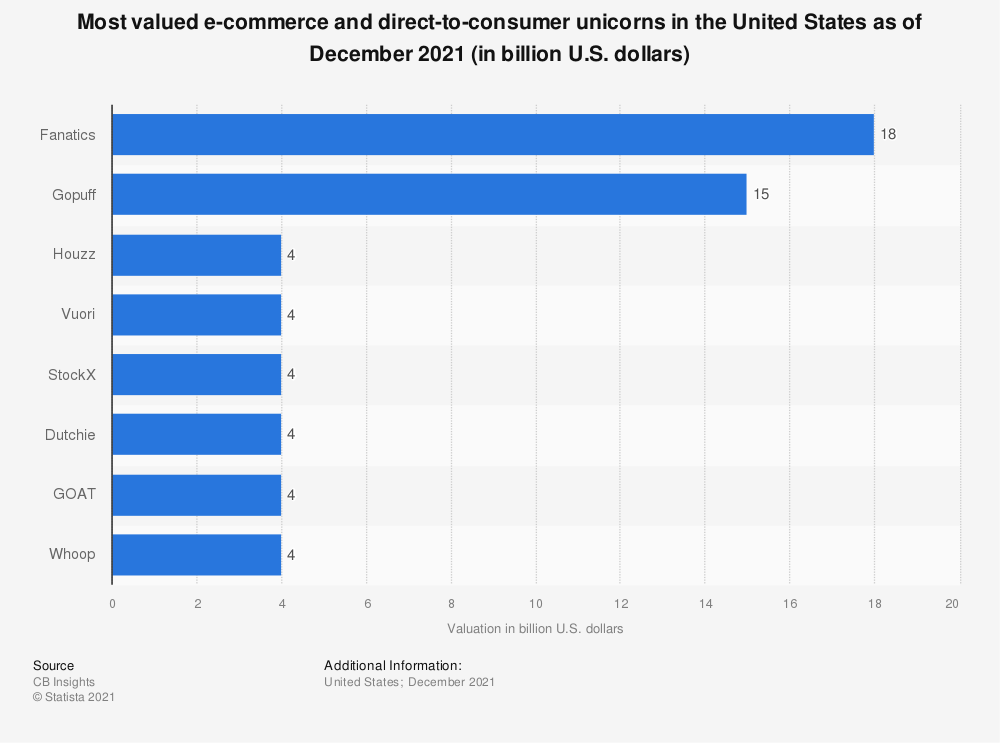 Tech Startup Statistics
Tech startups have several advantages that help them be more successful than other types of startups. For one thing, they tend to attract a lot of attention and investment. 
New technology is always of interest to investors, who are always looking for the next big thing. This attention can help a tech startup to get off the ground faster and with more resources than other types of startups. 
Tech startups often have a lower overhead than other businesses. They can often be run with a small team and limited resources, which helps to keep costs down. Additionally, tech startups often have a global reach from the very beginning. Thanks to the internet, a tech startup can have customers and users worldwide from day one.
Rate Of New Tech Startups Among The Top Cities In The United States
Artificial Intelligence Startup Statistics
Artificial Intelligence is one of the most talked-about topics in the tech world right now. And it's no wonder why: AI has the potential to change nearly every industry, from healthcare to transportation. 
Startups that are leveraging AI are seeing a lot of interest from investors. Here are a few reasons why AI startups are so attractive to investors.
Firstly, the industry is increasing and is expected to continue in the coming years. This provides many opportunities for startups to gain a foothold in the market and grow quickly.
Secondly, AI has a vast addressable market. Nearly every industry can be improved with AI, which means many potential customers for AI startups. 
Finally, AI startups often have strong management teams with experience in the industry, which gives them a good chance of success. As a result, AI startups are an attractive investment for both established businesses and venture capitalists.
Top Funded Artificial Intelligence Startups from 2016 To 2021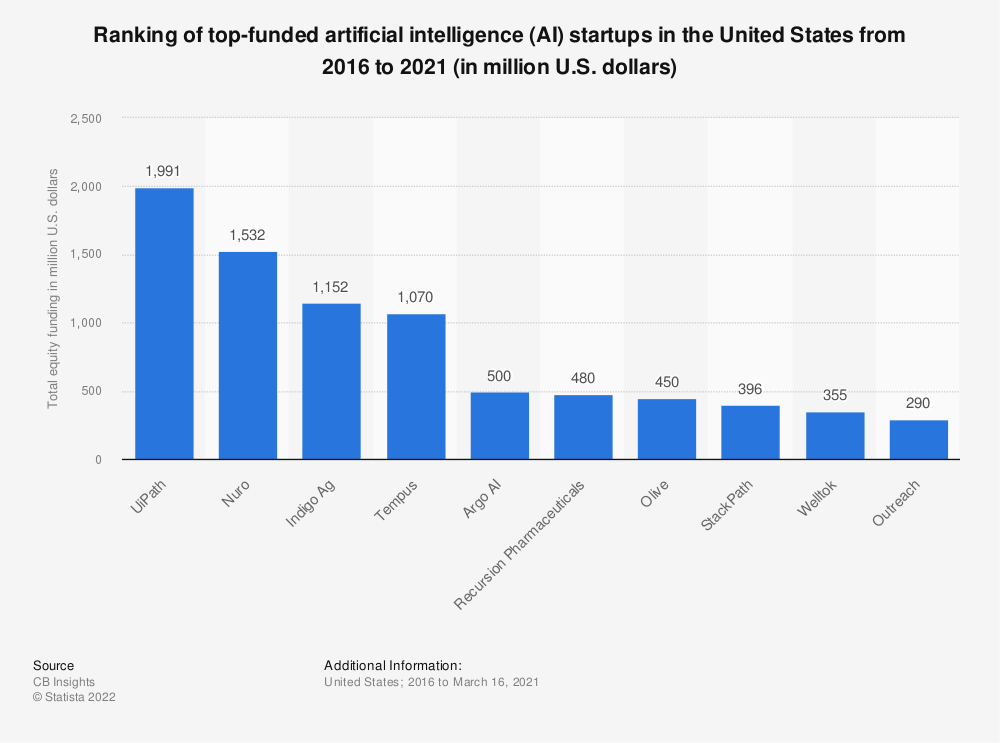 Artificial Intelligence Funding In The United States By Quarter From 2016 To 2020
Statistics For Startup Entrepreneurs
In recent years, there has been a surge in people looking to become startup entrepreneurs.
You can create an online store or website with very little overhead and reach a global audience with just a few clicks. Additionally, there's a growing trend of people wanting to be their boss and control their destiny. 
With the gig economy on the rise, more and more people are freelance workers or consultants, driving the need for creative and innovative businesses.
There's more opportunity now than there has been in the past. The barriers to entry in many industries have been lowered, and there's a greater acceptance of failure.
Number Of Graduates Founding A Startup In The United States In 2020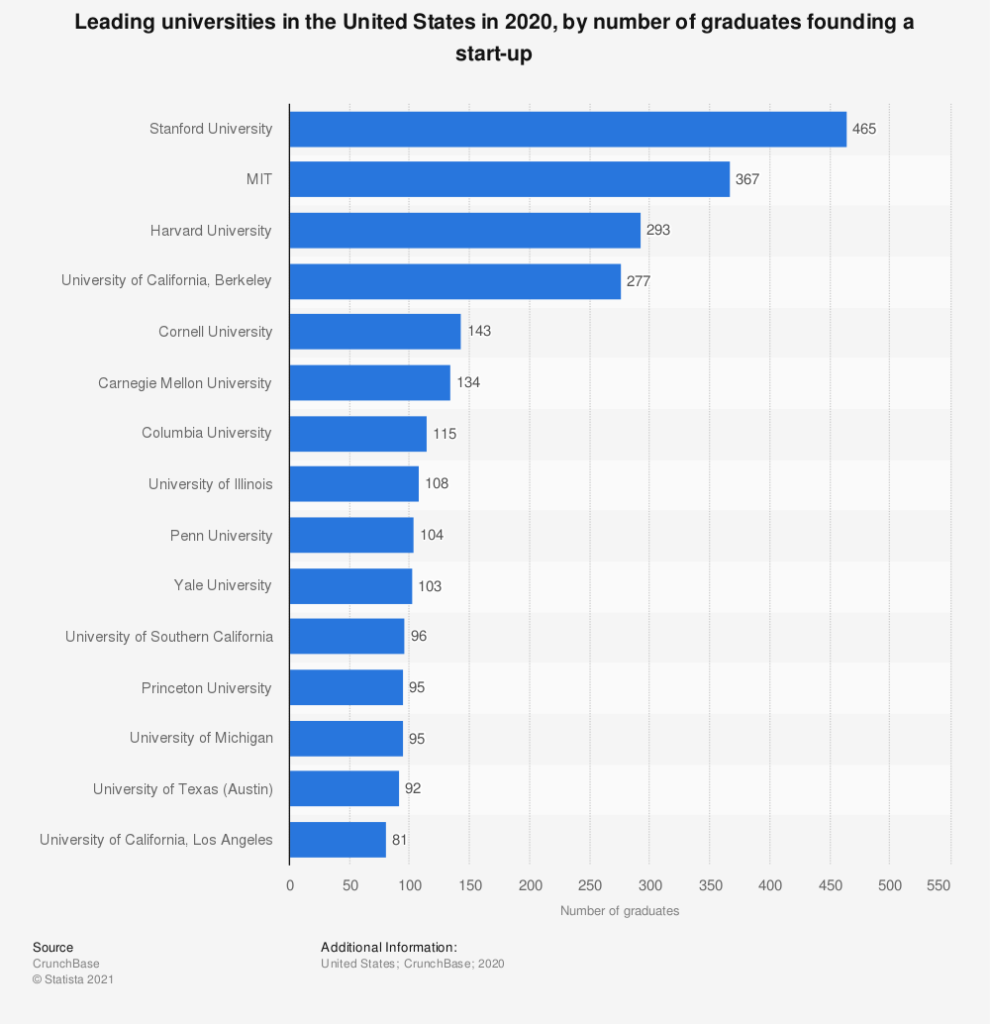 Rate Of New Entrepreneurs In The United States By Gender
Rate Of New Entrepreneurs In The United States By Race
Rate Of New Entrepreneurs In The United States By Age
Statistics On Female Founded Startups
A recent study by First Round Capital found that despite comprising nearly 50% of the workforce, women make up only 11% of startup founders. This disparity is even more pronounced in the tech sector, where women hold just 5% of leadership positions. 
There are several possible explanations for this discrepancy. One theory is that women face more incredible difficulty than men when securing funding for their businesses. 
According to a report by Babson College, venture capitalists are more likely to invest in male-led startups than female-led ones. This bias may be due to a belief that men are better suited to the high-risk, high-reward world of startup investing.
Number Of Female-Led Startups That Became Unicorns
Percentage Of Startups With At Least One Female Founder
Share Of Startups With Female Executives In The United States In 2020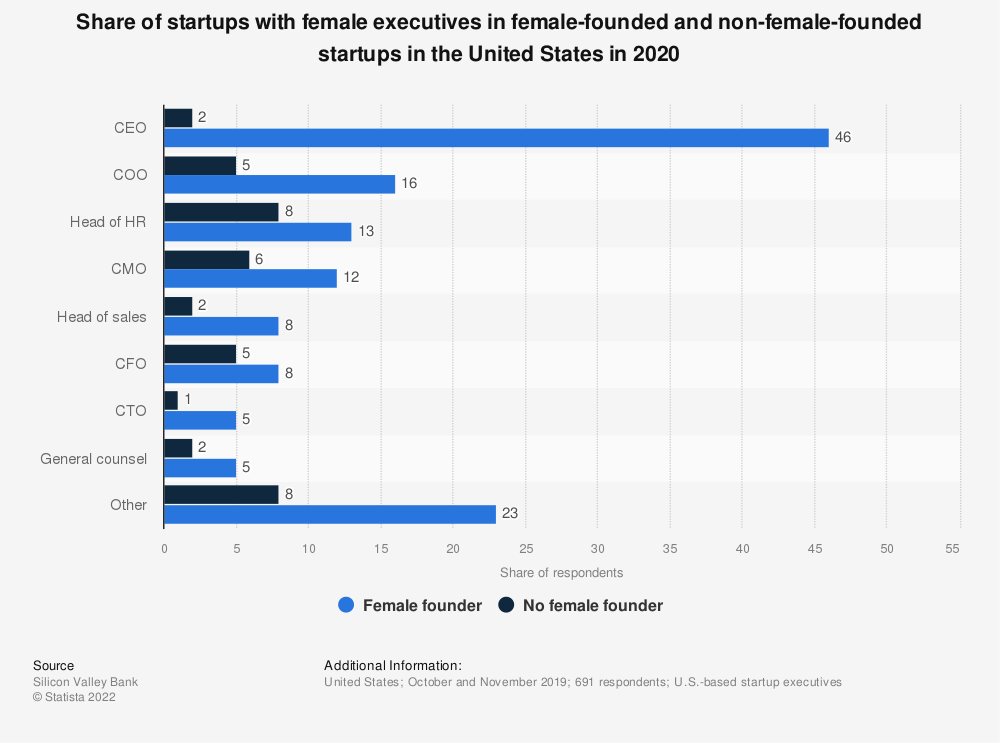 Venture Capital Funded Female Founded Startups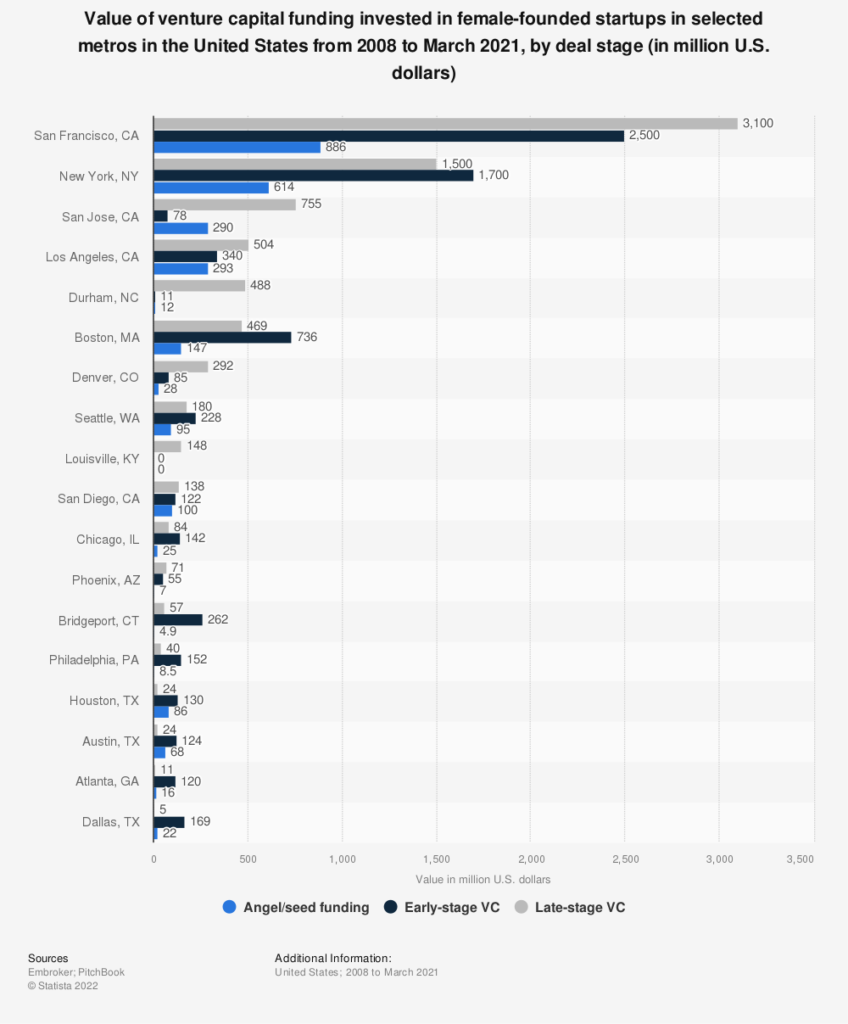 B2B And E-Commerce American Startup Funding Statistics
E-commerce startups in America face a number of challenges, but it is still possible for them to achieve financial success. One of the biggest challenges for a small business is to get beyond the high chance of failure – about 30% of startups fail within the first year. This means that the business owner needs to be extremely careful and have a well-thought-out plan in order to increase their chances of success. 
Additionally, e-commerce startups need to be aware of the competition and make sure that their products and services are differentiated enough to attract customers. 
Finally, it is important to have a strong online presence to help increase the startup success rate and marketing strategy to reach potential customers. While there are many challenges, e-commerce startups can still find success if they are careful and strategic in their approach.
When it comes to funding, there are a few options available for e-commerce startups. The most common type of funding for e-commerce startups is series A funding. One simple option is to receive funding from family and friends. This can be a great way to get started, but it's important to remember that not all businesses succeed. 
In fact, the startup failure rate is quite high. According to one startup statistic, around 80% of businesses fail within the first 18 months. So it's important to have a solid plan in place and to be prepared for the possibility of failure. 
Another option is to receive funding from venture capitalists. This type of funding is typically only available to businesses that have a solid track record of success and are growing quickly. However, it can be a great way to get the capital you need to scale your business. Finally, you may also consider taking out a loan from a bank or another financial institution. This can be a good option if you have strong personal credit and are confident in your ability to repay the loan. Whatever route you decide to take, be sure to do your research and understand the risks before you commit to anything.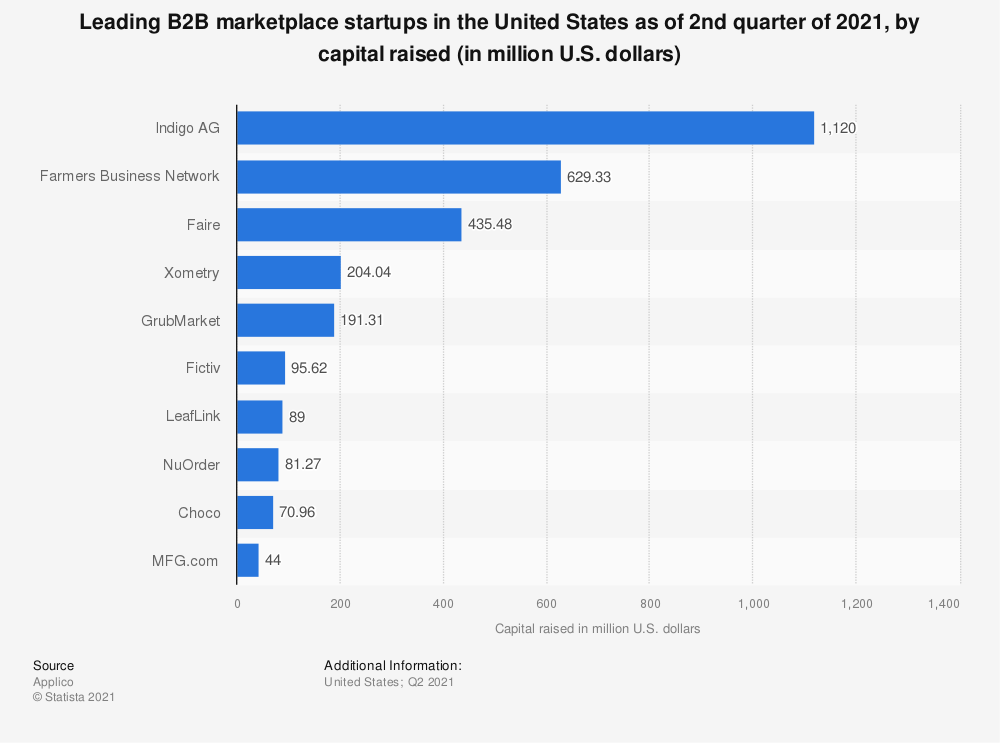 There are a number of reasons why B2B and Ecommerce startups are leading the charge when it comes to innovation. For one, startup failure rates are relatively high, meaning that there's a constant need for new and improved products and services. Additionally, the Census Bureau business formation statistics show that startup activity is on the rise, indicating that more people are willing to take the risk of starting their own business. Finally, startup capital is becoming more readily available, making it easier for entrepreneurs to get their businesses off the ground. All of these factors Combined have created a fertile environment for innovation, and it's no surprise that B2B and Ecommerce startups are at the forefront of this movement.
Need To Know Statistics On business Startup Accelerators
A startup accelerator is a business incubator that helps new startups to grow and develop by providing resources and mentorship. The term "startup accelerator" is often used interchangeably with "business incubator," but there is a distinct difference between the two. 
Business incubators typically provide office space and basic amenities to new businesses, while startup accelerators offer more comprehensive services such as labor statistics, business advice, and start-up funding. 
Many accelerators also offer sector-specific support, such as for fintech startups. The goal of a startup accelerator is to help new businesses to get off the ground quickly and successfully. By providing access to resources and mentors, accelerators give startups the best chance for success in a competitive marketplace.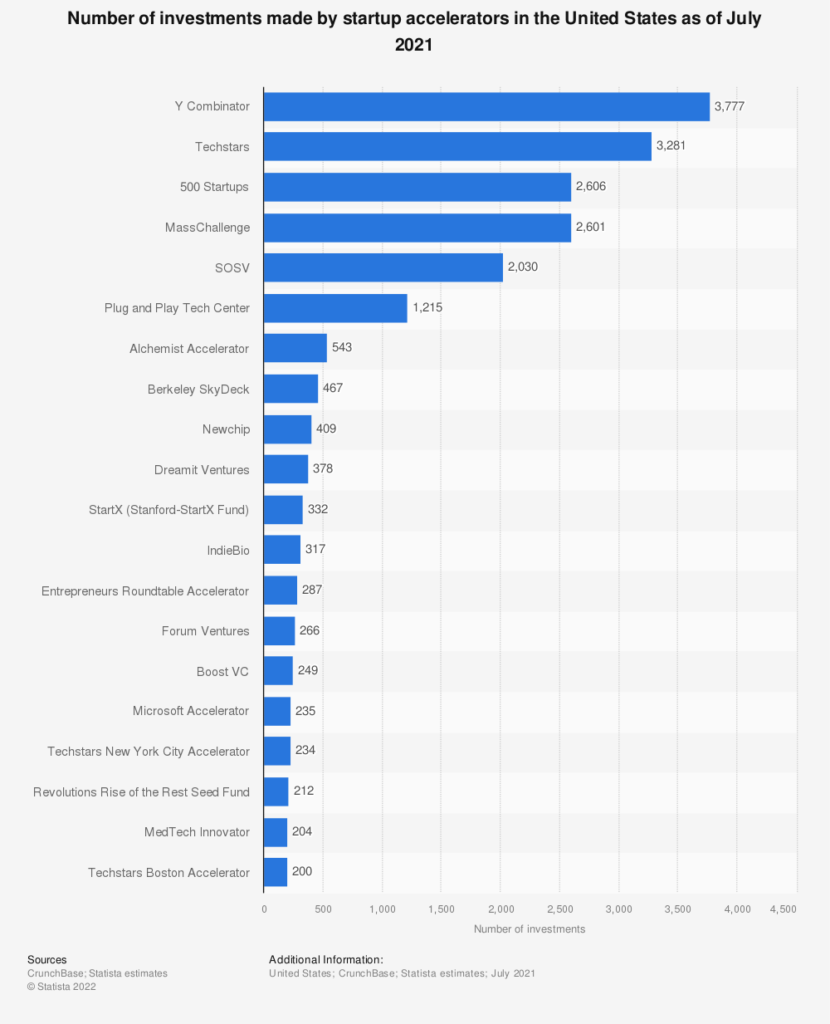 According to CB Insights, the global failure rate for startup businesses is around 90%. That means that for every 10 startups that are founded, 9 will fail. This high failure rate is often attributed to a lack of experience and poor planning. However, it's also important to note that many startup businesses are never able to get off the ground due to a lack of funding. 
This is where startup accelerators can be helpful. By providing small business owners with access to capital, resources, and mentorship, startup accelerators can help increase the chances of success for new businesses. In fact, according to one study, businesses that participate in accelerators have a 3x higher chance of survival than those that don't. 
For these reasons, it's important for entrepreneurs to know statistics on startup accelerators when they are developing their business plans. By understanding the risks and rewards associated with accelerator programs, they can make more informed decisions about whether or not these programs are right for their businesses.
While many people know Mark Zuckerberg as the founder and CEO of Facebook, he is also an active investor in startups. In recent years, he has made a number of investments in businesses that develop business applications. For example, he was an early investor in Asana, a project management software company. In addition, he led a $30 million investment in Yammer, a business-oriented social network. Zuckerberg has also been active in investing in startups outside of North America. In 2010, he led a $24 million investment in Axel Springer's Series B fund, which invests in European startups. These investments have helped to make Zuckerberg one of the most successful startup investors in the world.
Leading Statistics On San Francisco Bay Area
There are a few reasons for the drastic increase in GDP of the San Francisco Bay Area. One reason is seed funding. In the Bay Area, there are many seed investors, who provide funding for early-stage startups. This seed funding helps startups get off the ground, and contributes to the Bay Area's high rate of startup success. Another reason is venture capital. The Bay Area is home to venture capitalist hoards, who invest in high-growth startups. This venture capital fuels the growth of these startups, and contributes to the Bay Area's high GDP. Finally, the Bay Area is home to many venture backed startups. These startups have access to large amounts of capital, and often go on to become very successful businesses. In conclusion, the San Francisco Bay Area has a thriving startup ecosystem, which contributes to its high GDP.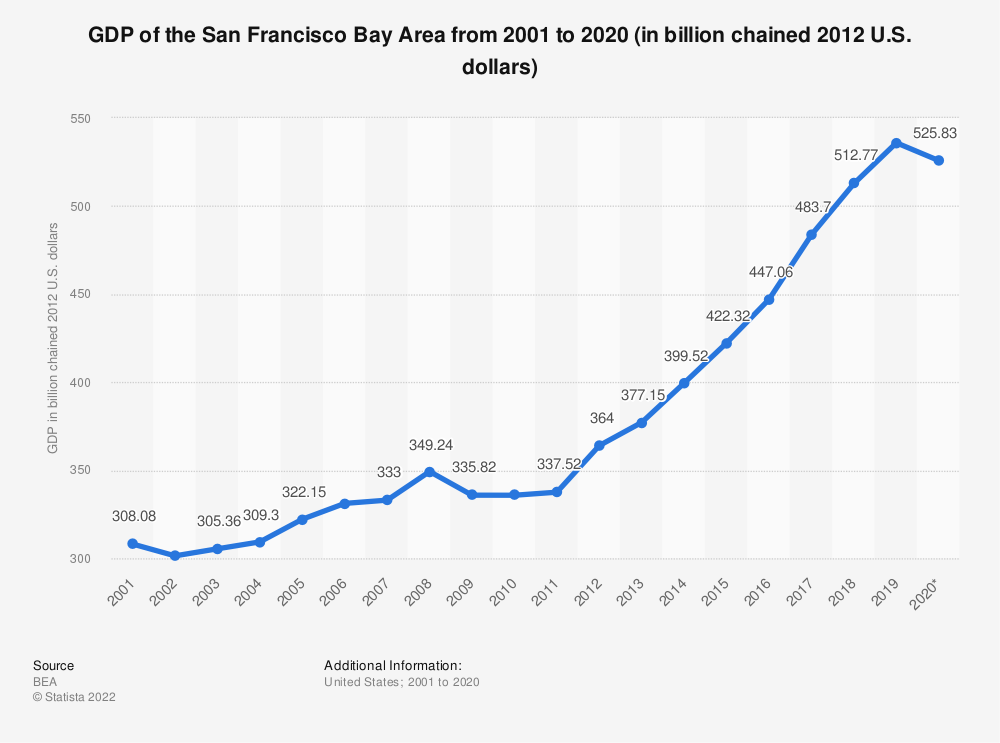 Startup Employment And Job Creation
According to small business trends, startup employment and job creation are on the rise. One reason for this is that small businesses are increasingly turning to technology to help them find new employees. For example, small businesses can now use online tools like LinkedIn to identify potential candidates and connect with them directly. Additionally, small businesses can use social media to post job openings and reach a wider pool of applicants. 
Another reason for the increase in startup employment and job creation is that more people are becoming interested in working for small businesses. This is due in part to the growing popularity of small businesses as a source of innovative products and services. Furthermore, working for a small business often provides employees with more opportunities for career growth and development than working for a large corporation. 
Finally, the increase in startup employment and job creation can also be attributed to the legacy of Steve Jobs. After co-founding Apple, Jobs became an evangelist for small businesses, popularizing the idea that small businesses could change the world. As a result, Jobs inspired a new generation of entrepreneurs who are now creating their own startups and jobs. Thanks to these entrepreneurs, startup employment and job creation are at an all-time high.
To Sum UP
For startups, it is essential to analyze the statistics of previous businesses. This helps to identify patterns and trends that can be used to predict the likely success of the startup. It can also help to assess the potential market size and to identify key areas that need to be addressed.
Additionally, statistics can help to formulate marketing and sales strategies, and to develop an understanding of the competitive landscape. Ultimately, by analyzing the statistics of previous businesses, startups can gain valuable insights that will help them to succeed.
Was this article helpful?